February 2019 – Wayne passed Comps I, a big hurdle in his PhD program! Way to go!
January 2019 – Thanks to UMass alum and local entrepreneur, Steven Richtor, for his generous gift to our lab. We're using the funds he donated to build a new zebrafish behavioral analysis rig. Stay tuned!
December 2018 – A festive time of year! Surprise lab decorations for Gerry's birthday and a fun, holiday dinner.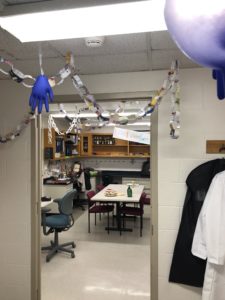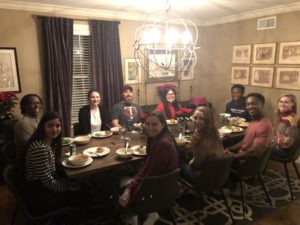 October 2018 – More outreach! We, along with the Neuroscience and Behavior Graduate Students and the College of Natural Sciences Center for Student Success and Diversity, coordinated a visit for students from the Baystate Academy Charter School to tour labs at UMass. So much science to see. A great day!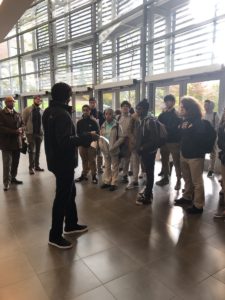 September 2018 – A new academic year and a new look. We've redesigned and relaunched the lab website. Take a look around!
June 2018 – Gregory Teicher passed his Original Research Proposal (ORP), so he's now officially a Ph.D. candidate. Great job! Congratulations!
June 2018 – Both Sarah Danforth and Ana Dolan were awarded undergraduate Honors College Research Grants to support their work in the lab. Way to go!