May 2020-  COVID-19 brought a tough semester, but Chinemerem defends his undergraduate thesis and graduates. Chinemerem, we're so proud of you! Good luck working as a research coordinator at Massachusetts General Hospital while applying to med school. 
December 2019 – Gabi defends her undergraduate thesis and graduates. Gabi, you're a rockstar! Good luck working as a lab technician at Brigham and Women's Hospital while applying to med schools. 
November  2019 – Gregory and Wayne present their work at the Zebrafish Neural Circuits & Behavior conference at Cold Spring Harbor, NY. Great job! We look forward to each of them publishing some of their work soon!
September 2019 – A new academic year, and new students. We welcome Madison Riffe, a new Neuroscience and Behavior PhD student, and Ben Clayton, an undergraduate, to the lab. We're glad you're here and can't wait to see what you discover!
May 2019 – Graduation season and it's time to celebrate, although we're sad to see undergraduates Sarah and Ana leave the lab. It's been great to have such excellent students, and they both did an outstanding job completing their capstone projects. It's also thrilling to hear the news about former students beginning the next phase of their careers. Abby Case is enrolling in Medical School at Quinnipiac University, Bahati N'kera is enrolling in the Neuroscience PhD program at Brown University, and Chris Huenneke is enrolling in Medical School at Harvard University. Bravo! We're so proud of all of you!!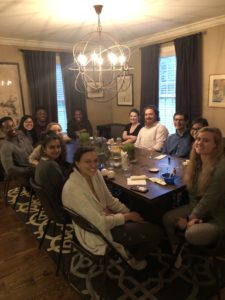 February 2019 – Wayne passed Comps I, a big hurdle in his PhD program! Way to go!
January 2019 – Thanks to UMass alum and local entrepreneur, Steven Richtor, for his generous gift to our lab. We're using the funds he donated to build a new zebrafish behavioral analysis rig. Stay tuned!
December 2018 – A festive time of year! Surprise lab decorations for Gerry's birthday and a fun, holiday dinner.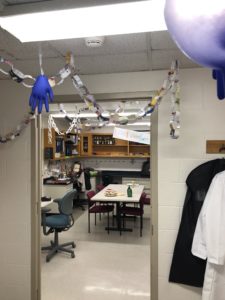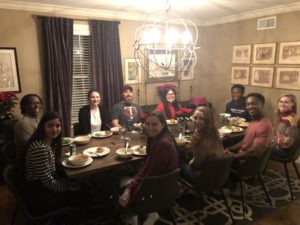 October 2018 – More outreach! We, along with the Neuroscience and Behavior Graduate Students and the College of Natural Sciences Center for Student Success and Diversity, coordinated a visit for students from the Baystate Academy Charter School to tour labs at UMass. So much science to see. A great day!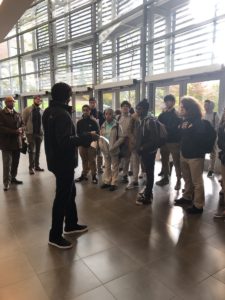 September 2018 – A new academic year and a new look. We've redesigned and relaunched the lab website. Take a look around!
June 2018 – Gregory Teicher passed his Original Research Proposal (ORP), so he's now officially a Ph.D. candidate. Great job! Congratulations!
June 2018 – Both Sarah Danforth and Ana Dolan were awarded undergraduate Honors College Research Grants to support their work in the lab. Way to go!