In this lab…
we are diverse, creative, rigorous, compassionate, and interested in the world around us. Science is real. Black lives matter. Love is love. Feminism is for everyone. Immigrants are welcome. And zebrafish are super cool.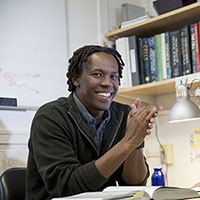 Gerald (Gerry) Downes
Principle Investigator
Gerry Downes is a Professor of Biology at UMass Amherst. Originally from Kingston Mass., he obtained a B.S. in Biology from Johnson C Smith University in Charlotte North Carolina and a Ph.D. in Neuroscience from Washington University in St. Louis. At Wash U., Gerry worked on heterotrimeric G proteins. He conducted his postdoctoral training at the University of Pennsylvania, which is where he first began working with zebrafish. In 2005, Gerry came back to his home state and joined the faculty of UMass Amherst.
Fun fact: Gerry was a breakdancer- a really long time ago.
E-mail: gbdownes_umass.edu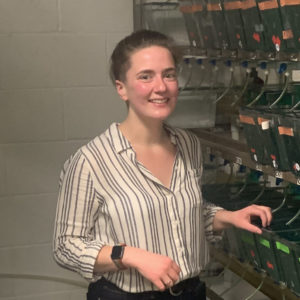 Carson Martin
Lab and Fish Facility Manager- Also an Organismal and Evolutionary Biology Masters Student in the Blanchard Lab 
Fun fact: Carson is ambidextrous.
Hometown: Philadelphia, PA
E-mail: carolinemart_umass.edu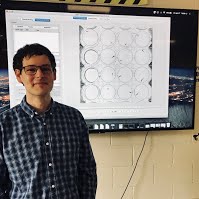 Gregory Teicher
Molecular and Cellular Biology Graduate Student
Originally from Newton, MA, Gregory Teicher received his B.S. with an emphasis in Biology from The Evergreen State College in Olympia, Washington. He received his M.S. in Medical Science from Boston University in Boston, Massachusetts, where he completed his master's thesis on the roles of purinergic signaling in regulating cytoskeletal rearrangements during wound healing in the cornea. Now a Ph.D. Student in the Molecular and Cellular Biology Program at UMass Amherst, his research in the Downes Laboratory currently focuses on amino acid metabolism and mTOR signaling in nervous system development and epilepsy. Gregory maintains an active interest in the application of computational methods toward understanding biological systems and processes. He also has a strong interest in educational theory and reform.
Fun fact: Gregory has at various points played guitar, piano, and violin, and has recently started making electronic music.
E-mail: gteicher_mcb.umass.edu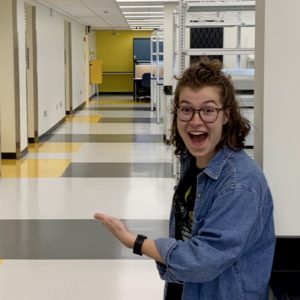 Madison Riffe
Neuroscience and Behavior Graduate Student
Madison Riffe is a Neuroscience and Behavior student at UMass Amherst. Originally from Charleston, West Virginia, Madison went on to earn a B.S. in Biology at West Virginia University. Her thesis is project is to use zebrafish to investigate the cellular and molecular mechanisms that underlie TBCK Syndrome and related disorders.
Fun fact: Madison has a black belt in a martial art. Don't mess with her!
E-mail: rriffe_umass.edu
Liz Beech
Neuroscience and Behavior Graduate Student
Fun fact:
E-mail:
Malia Cole
Undergraduate Student, Psychological and Brain Science Major (Neuroscience Track)
Fun fact: Malia spends most of her free time crocheting.
Hometown: Beverly, MA
E-mail: mmcole_umass.edu
Isabella Tancredo
Undergraduate Student, Biology and Portuguese double major
Fun fact: Isabella is trilingual.
Hometown: Watertown, MA
E-mail: itancredo_umass.edu
Rodrigo Vieira
Undergraduate Student, Biochemistry Major
Fun fact: Rodrigo enjoys snowmobiling and paragliding in his free time.
Originally from: Timoteo, MG, Brazil
E-mail: rmvieira_umass.edu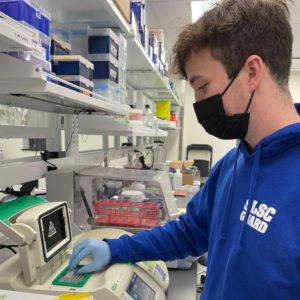 Colin Wood
Undergraduate Student, Biology Major
Fun fact: Colin placed 1st in Central Massachusetts and 4th in the US for the 2018 Brain Bee neuroscience competition.
Originally from: Grafton, MA
E-mail: colinwood_umass.edu
Lab Alumni
| | |
| --- | --- |
| Aziza Hume | Aziza was an undergraduate in the lab from 2022-2023. She is a currently in a research technician at Tuft's University Dental School. |
| Sydney O'Malley | Sydney was an undergraduate in the lab in 2021-2023. She is a currently in a research assistant at Children's Hospital Boston. |
| Julia DiFazio | Julia was an undergraduate in the lab in 2021-2023. She is a currently in an associate scientist at Vor Biopharma. |
| Emily Knowlton | Emily was an undergraduate in the lab in 2021-2023. She is a currently enrolled in an early career research program at the Broad Institute. |
| Dr. Wayne Barnaby | Wayne was an NSB graduate student in the lab from 2017-2023. He is a currently in a research advisor in RNA Biology at Eli Lilly. |
| Chelsea Amadi | Chelsea was an undergraduate in the lab from 2020-2021. She is a currently in a Nurse Practitioner Program at the University of Massachusetts Chan Medical School. |
| Hanna Dorman Barclay | Hanna was our lab manager from 2015-2021. She is currently working as a lab technician at TickReport. |
| Ben Clayton | Ben was an undergraduate in the lab from 2019-2021. He is a Ph.D. student at the University of Massachusetts Chan Medical School. |
| Sophia Gutierrez | Sophia was an undergraduate in the lab from 2018-2021. She is currently working as an Emergency Medical Technician. |
| Akanksha Nagarkar | Akanksha was an undergraduate in the lab from 2018-2021. She is currently a medical student at the University of Massachusetts Chan Medical School. |
| Chinemerem Nwokemodo-Ihejirikia | Chinemerem was an undergraduate in the lab from 2018-2020. He worked as a clinical research coordinator at Massachusetts General Hospital and is now a medical student at Harvard University Medical School. |
| Gabi Martin | Akanksha was an undergraduate in the lab from 2017-2019. Gabi worked as a lab technician at Brigham and Women's Hospital before enrolling as a medical student at the University of Massachusetts Chan Medical School. |
| Sarah Danforth | Sarah was an undergraduate in the lab from 2017-2019. She is currently a medical student at the University of Massachusetts Chan Medical School. |
| Ana Dolan | Ana was an undergraduate in the lab from 2017-2019. She is currently a lab technician at Mass General Hospital. |
| Bahati Nkera | Bahati was an undergraduate in the lab in 2018. He is currently a Neuroscience PhD student at Brown University. |
| Sean Doherty | Sean was an undergraduate in the lab from 2015-2017. He is currently a medical student at the University of Massachusetts Chan Medical School. |
| Dr. Abby Case | Abby was an undergraduate in the lab from 2016-2017. After graduation she worked as a lab technician at Dana Farber Cancer Institute. She was a medical student at Quinnipiac University Medical School and is now a resident at Brown University Medical School. |
| Dr. Yuval Biran | Yuval was a Biotechnology Master's intern in the lab from 2015-2016. After working in the Biotech industry, she went to Lake Erie College of Osteopathic Medicine. She is currently an Emergency Medicine Resident at West Virginia University Hospital. |
| Marie Abate | Marie was an undergraduate in the lab from 2015-2017. She is currently a Physician Assistant student at LIU Brooklyn. |
| Courtney Poon | Courtney was a Biotechnology Master's intern in the lab from 2015-2016. She is currently an Associate Scientist at AbbVie in Worcester, MA. |
| Dr. Christopher Huenneke | Chris was an undergraduate in the lab from 2015-2016. He earned his M.D. from Harvard University Medical School and is now a resident at Wellstar Health System. |
| Dr. Meghann Zapcic | Meghann was an undergraduate in the lab from 2013-2016. She earned her M.D. from Temple University Medical School and is now in an emergency medicine residency program at Baystate Medical Center. |
| Dr. Elena Drews | Elena was an undergraduate in the lab from 2013-2016. She earned her M.D. from Duke University Medical School and is now in an interventional radiology residency program at Emory University Medical Center. |
| Pelagia Candelas | Pelagia was an undergraduate in the lab from 2014-2016. After working as a lab technician, she was a M.S. student at Boston University and is now a medical student at Drexel University Medical School. |
| Dr. Schyla Wante | Schyla was an undergraduate in the lab from 2013-2015. She earned her M.D. from the University of Massachusetts Medical School and is now in an emergency medicine residency program at UMass Memorial Hospital. |
| Dr. Steven Omansky | Steve was an undergraduate in the lab from 2013-2014. He is earned his M.D. from the University of Connecticut Medical School and is now in an internal medicine residency program at Mt. Sinai Medical Center, NY. |
| Dr. Adam McSherry | Adam was an undergraduate in the lab from 2013-2014. He earned his D.O. from the University of New England and is now in a family medicine residency program at Samaritan Medical Center, NY. |
| Laura Stapler | Laura was an undergraduate in the lab from 2010-2013. After participating in AmeriCorps she became a Chemistry and Engineering Teacher at Sizer School. |
| Dr. Sruthi Satishchandran | Sruthi was an undergraduate in the lab from 2009-2012. She earned her DDS from the University of Pittsburgh School of Dental Medicine and is currently an intern at Emory University School of Medicine. |
| Dr. Alexandra Nowlan | Ally was an undergraduate in the lab from 2009-2010. After working as a technician at Harvard University Medical School, she then earned a Ph.D. in Neuroscience from Cold Spring Harbor Labs. She is currently a postdoctoral fellow at the University of North Carolina, Chapel Hill. |
| Erin Parker | Erin was an undergraduate in the lab from 2008-2009. After participating in Teach for America, she became a Chemistry Teacher (and Field Hockey Coach) at Revere High School. |
| Dr. Bryan Monesson-Olson | Bryan was an NSB graduate student in the lab from 2007-2013. He performed at Postdoctoral Fellowship at Amherst College. He is currently a the Assistant Director of Professional Development in the Graduate School of UMass, Amherst. |
| Dr. Timo Friedrich | Timo was an MCB graduate student in the lab from 2007-2012. He performed a Postdoctoral Fellowship at Monash University, Australia and is currently a technical support engineer for Bauer Kompressoren, in Germany. |
| Dr. Elizabeth Oler | Liz was an undergraduate in the lab from 2006-2008. She earned her M.D. from Georgetown University School of Medicine and performed a residency at Johns Hopkins U. She is currently an OB/GYN at Mercy Medical Center- Roseburg Oregon. |
| Dr. Kelly Anne McKeown | Kelly Anne was an MCB graduate student in the lab from 2006-2011. She is currently an Associate Professor of Biology at Westfield State U. |